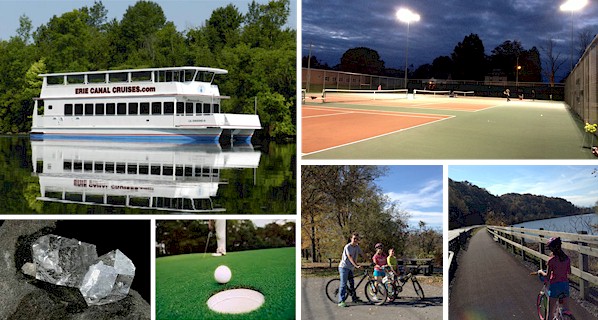 The Village of Herkimer has several parks and playgrounds located around the village. Residents are able to use the college's sporting facilities and nature trail, as well as the school's facilities, such as the tennis courts, track, soccer fields, the elementary school's extra large playground, etc. Local gyms can keep you in shape, and within a 10 to 15 minute drive you can catch some sports action with minor league teams such as the Little Falls Diamond Dawgs baseball team and the Utica Comets hockey team. Not to mention the local high school and college games. Two golf courses are within a 5 minute drive. The Erie Canal System passes by Herkimer, making a great spot for the local marina and a groomed bicycling trail. Snowmobile trails, NYS hiking trails, numerous NYS fishing sites, and other outdoor activities are only a few minutes from Herkimer. Several lakes and also ski areas are within a half-hour drive. The Broadway Theater League at the Stanley Theater, and the Marquee Cinemas cineplex are both in nearby Utica. Glimmerglass Opera in Cooperstown is a scenic 30 minute drive from Herkimer. Turning Stone Casino Resort, with its national entertainment venues, is only 35 minutes away.

Herkimer in History:
Herkimer was the site of Fort Dayton during the American Revolution, and has many historical sites in the village and around the general area. Fort Dayton was a sizable post, and part of the American chain of defenses in the Mohawk Valley. It was built under the direction of Col. Elias Dayton of the 3rd New Jersey regt. in 1776. General Nicholas Herkimer gathered his militia here on August 4, 1777, and ran into the Oriskany ambush on his way to relieve Fort Stanwix. In the fall of 1778, Joseph Brant and Captain William Caldwell led a mixed force of 450 Loyalists and Mohawks on a raid into the German Flats area. A scouting party was sent out to find the raiders, and ran into an ambush. Only Adam Helmer survived; he led the Indians on a twenty mile chase (dramatized in the print and film versions of Drums Along The Mohawk), finally beating them and delivering a warning to Fort Herkimer (two miles east of Fort Dayton). The settlers were safe in their forts as the raiders left a ten mile strip of scorched earth between today's Frankfort and Little Falls. The fort covered the area now bounded by Main, Court, Washington, and German Streets in Herkimer, NY. The remains of the fort's well exist on private property. The Herkimer County Historical Society is built on the site of Fort Dayton.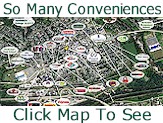 brought to you by